Test-N-Tune, X half a dozen!
09-07-2018, 10:11 AM
Join Date: Mar 2015
Posts: 171
---
Quick little update, very little has been going on. I've enjoyed taking a little break from the car. It is time to get it finished though. So yeah I decided to go ahead and bite the bullet and order a scavenge pump. Leveling the car did improve the smoke but there is still too much for my liking. So that's on the way. Grabbed me a $25 LCD and camera setup on ebay, and at this point I'm not even sure if I'm gonna try and mount the rearview mirror, I plan to run this all the time.
I did have to go back and shim this up a little to get the distance behind the car I wanted while still remaining fairly hidden. Width/angle is equal to the width of the car at about 1 to 2 feet behind it, then widens out from there.
I tried sticking this to the roof and it fell off within an hour. So i just hose clamped it to the roll cage. Really dont want to weld a mount on the cage for an LCD screen. So this is gonna have to work for now. Not sure if its gonna be annoying there but it isnt in my line of sight.
09-11-2018, 11:44 AM
Join Date: Mar 2015
Posts: 171
---
Brand new POS chinaman scavenge pump. It's big, it's probably gonna be loud, no clue what the fittings are going into it, but it should work well.
So looking back I never posted pics of the upper radiator hose in-place. I bought a flex hose and it was a tad too short. So I decided the stock hose was perfect, just needed to be longer. I originally added a straight adapter, and a 6" piece of 1.25 silicone. It worked fine but dangled the hose right over the turbo. So I decided try #3 would be a charm.
1.25" listed adapter measured 1.50". Dang you Summit.
Had to go old school.
After some profanity and some wrenches being thrown i got it on. You can see how buldged it is over the fitting. It sits really nice above the fan so I dont think it needs a brace or anything.
Was gonna replace all the carpet then scratched that idea. I'm just gonna add a rear section.......at some point. Right now this will do. Did some quick trimming just to see how it fit with the cage in the way.
Next stop, fajitas and cold beer in the garage.
09-25-2018, 02:15 PM
Join Date: Mar 2015
Posts: 171
---
So, after further testing the scavenge pump is a success, no more smoke. Everything electrical is wired and working including all the gauges. Decided to throw the seats and harnesses in. I also made rear seat supports that are welded to the cage. The seats are super sturdy now with no flex. Man sitting in here it doesn't even feel like my car, it's so different. I think I only drove it once with the kirkeys before and it didnt even have seatbelts at the time.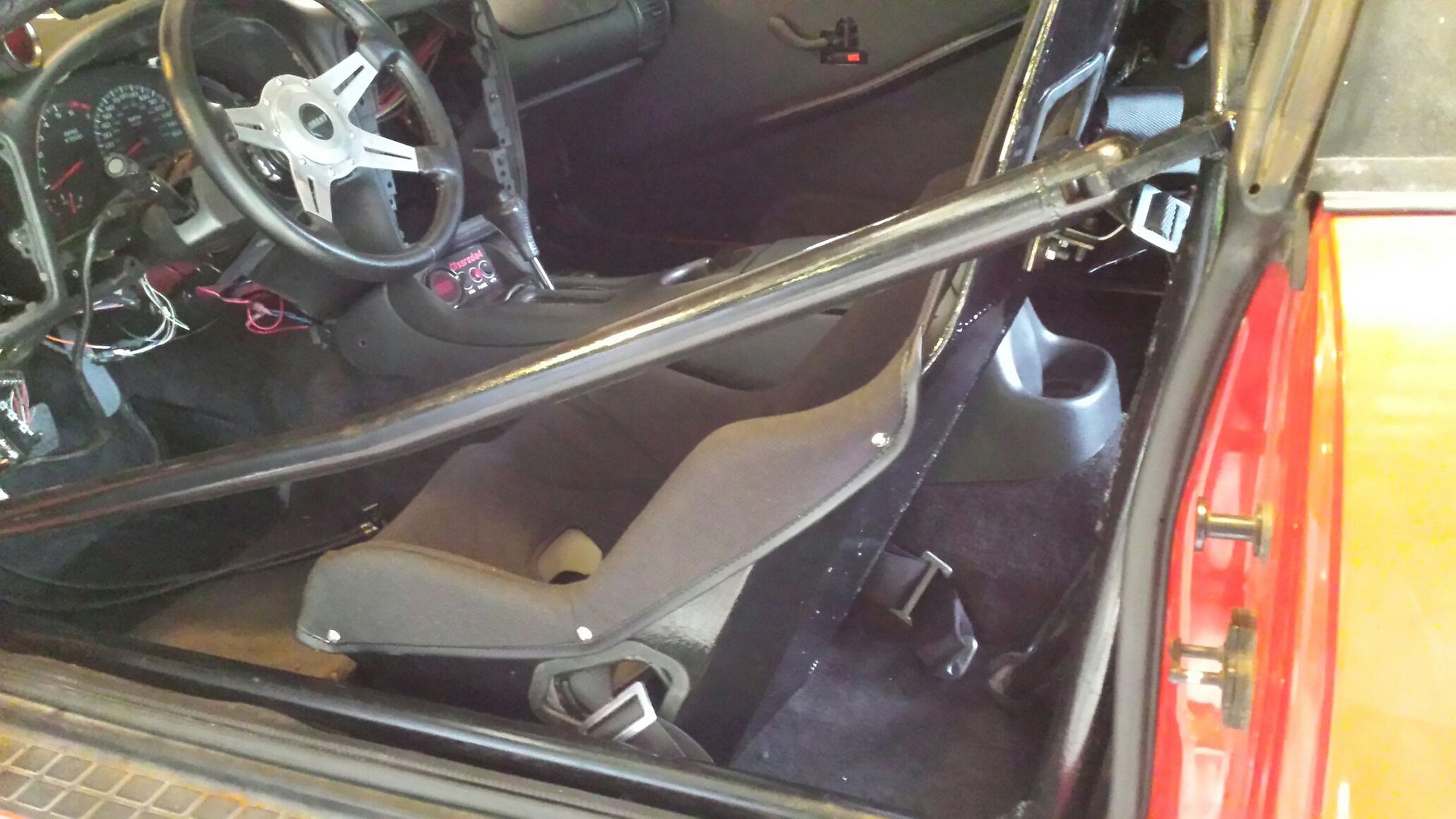 04-07-2019, 07:21 PM
Join Date: Mar 2015
Posts: 171
---
Small update but feels like a mountain to me. Brakes are bled and she's moving under her own power. I've got a few things lined up, brakes feel hard I'm not sure if the booster gave out, carpet, finish putting the interior together, bolt the battery back down, and a toon. Still waiting on the weld wheels also.
Built a welding car for my tig and new tiawanese plasma cutter.
Hoosier slicks are sold so I figured I'd hang the 10 spokes up in the garage as decoration. Always liked these wheels.
04-11-2019, 08:07 AM
Join Date: Mar 2015
Posts: 171
---
Came home to two boxes sitting in the garage
Put a little dishwashing soap and water on the inner bead and it slipped right on.
I decided if i feel any vibes from them Im gonna insert some balancing beads through the tire stem. Until then we are gonna roll like this.
Fronts are gonna have to wait for a bit. But for now she should hook pretty well.
04-20-2019, 10:16 PM
Join Date: Mar 2015
Posts: 171
---
Another small update but feels like a mountain to me. First thing is first, battery back in the box, bolted down, with carpet under it.
Gonna add some carpet over the trans tunnel and wheel tubs soon. That dont win races so its on the backburner ATM. Got the car on the ground and had no brake assist. Only thing i could figure is the booster was out which made no sense. Bought one online, swapped it out and now i have power assist again. Didnt figure out what went wrong with the original though.......
Waxed the wheels for easy cleaning.
Looks odd with 15s and 18s but whatever. MSD 2step on the way and I think Im gonna add a 110v outlet for laptop charging for tuning.
04-21-2019, 08:37 PM
Join Date: Mar 2015
Posts: 171
---
Some HPTuners ****ery going on today. The booster is hooked to the manifold (for vacuum) and the idle has been funky. New booster, time to get the idle dialed in. That's done. Previously, it would foot brake to about 3k and 0 psi and the tires would go up after that. Started reducing timing and the RPMs got way up there, so did the boost. I did this in the garage. I'm impressed with what it can do on the foot brake, 10 psi is gonna make a heck of a launch. More foot brake tuning when the 2step gets here.
Purple MAP is accurate.
04-26-2019, 11:06 PM
Join Date: Mar 2015
Posts: 171
---
Good to have friends in low places. She is "legal" again for tuning. Just need to put this on the windshield.
2step is here......but do i need it?
Hit near 15psi at 4200+ rpm on the foot brake in the garage. This seems insane to me, and I have 7lb springs in the gates so how, why? I'm confident i could get that even higher. I have so many questions at this point.....are the gates opening, will i be looking at the sky on launch, did i just waste $250 on a 2step? The future looks exciting.
110v inverter on the way to aid my laptop battery while tuning.
05-05-2019, 07:55 PM
Join Date: Mar 2015
Posts: 171
---
Took the old lady out for a $100 outback lunch. Birthday lunch and she deserves it, a truly good woman.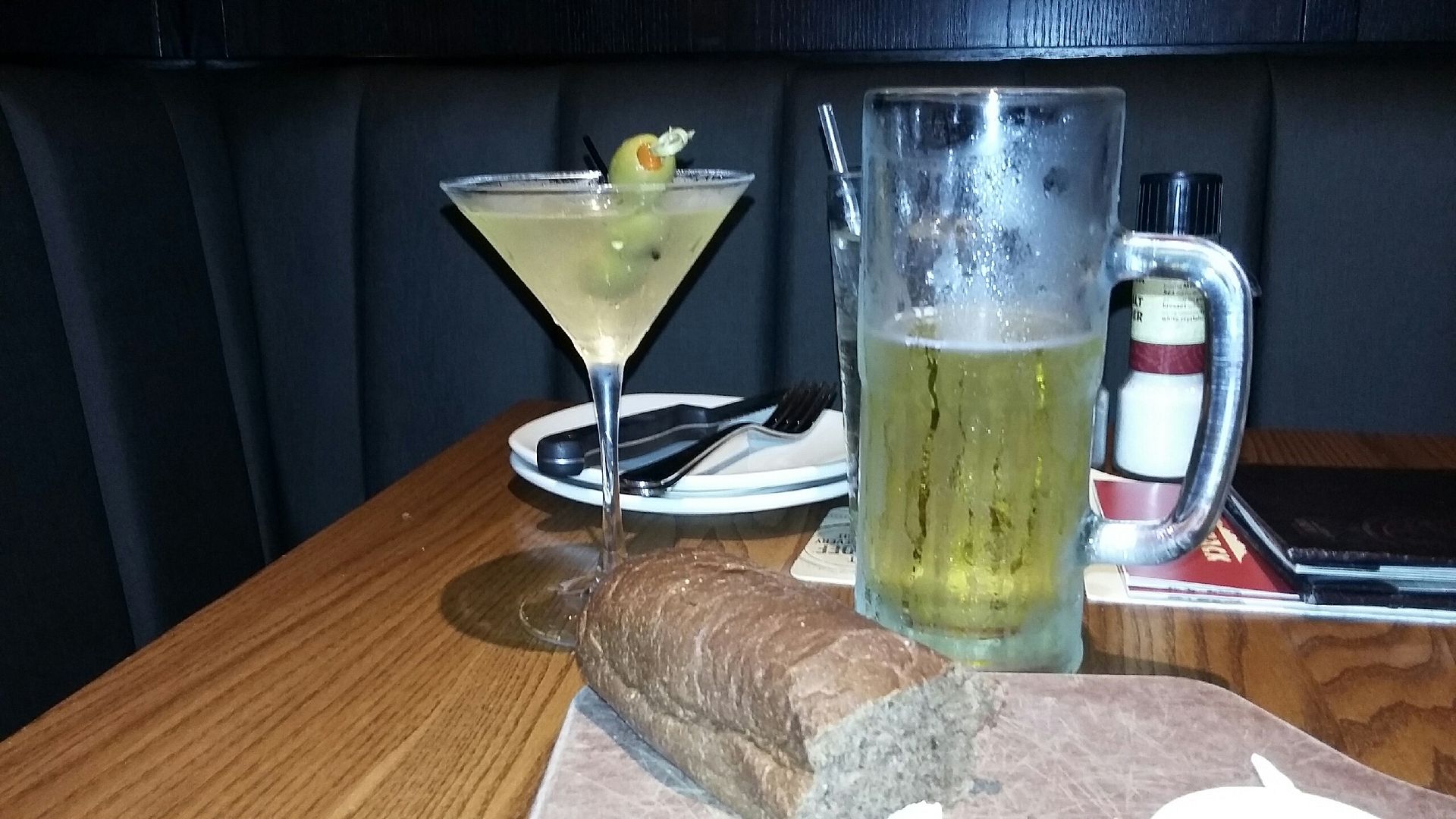 Bought an ebay gt45, no clue why, maybe we will put it on the yukon tow *****.
The guy I sold my old turbo kit to crushed the cold side pipe. So we are doing him a solid and fixing it for him.
Got hptuners, obd2, and 110v outlet on the passenger side. Actually took it out today and remembered the shocks were loose after I thought the rear end was gonna fall out of the car. But she went down the road and made it back home under her own power. I call that a win. Wrapped the 110v in padding cause I'm just gonna put it under the carpet when not in use.